Riyen Roots - Songwriter (Vocals/Guitar/Dobro) and his band is consists of different musicians he plays with in the Carolinas.
Original American Blues Roots and Soul Musician From The Mountains Of North Carolina!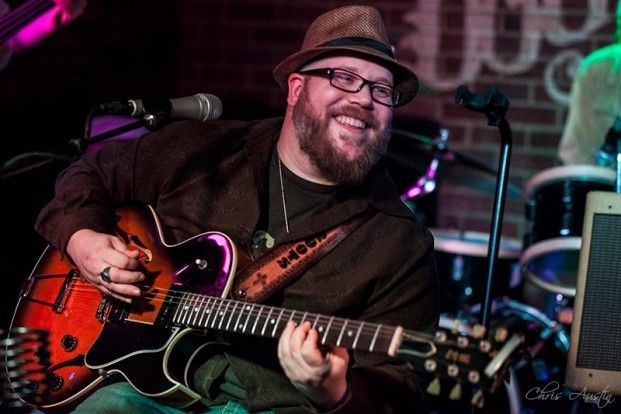 Riyen Roots is an American blues, soul and roots artist residing in the music-rich mountains of Asheville, North Carolina. He is currently among the busiest performing acts in the southeastern US. Having played 150+ annually for the past fifteen years. He is quickly building a name for himself, opening for national acts, playing festivals nationally and internationally and his original music is being played on dozens of radio stations, locally and around the world. His popular duo Roots and Dore just released their new album The Blues and Beyond to a wave of awesome reviews. Featuring special guest appearances by "Steady Rolling" Bob Margolin of Muddy Waters Band, along with Doc Watson's partner and multiple Grammy winner David Holt and Tony Black, the bass player for Marshall Tucker Band. In 2017 they formed the band RDB (Roots & Dore Band) and the band is doing well, playing big shows and recording a new album over the fall/winter 2018. Stay tuned y'all! See ya down that road...

Here is what folks in the music industry are saying about Riyen Roots
"LOVED YOUR SET OPENING OUR ASHEVILLE SHOW" - BILLY BOB THORNTON
"REALLY ENJOYED YOUR SET. IT WAS JUST WHAT I NEEDED TO HEAR TODAY."
STEADY ROLLIN' BOB MARGOLIN ~ AT THEIR SHOW TOGETHER AT 185 KING STREET IN BREVARD, NC
"YOU WILL DO IT..JUST TREAT EVERY SHOW LIKE IT'S THE BIGGEST GIG EVER...ALWAYS PLAY 100% FOR YOUR AUDIENCE AND YOU'LL DO WELL."
B.B KING IN PERSON 
"I KNOW YOUR HEART IS INTO IT...SO I'M SURE YOU'LL MAKE IT IN THIS BUSINESS...JUST KEEP GOING PLAYING THEM BLUES YOU'LL DO FINE."
DAVID "HONEYBOY" EDWARDS~ DELTA BLUES LEGEND/FRIEND OF RIYEN ROOTS
"KEEP IT UP, I LOVE YOUR TUNES ! A.D.G. "
ARLO GUTHRIE (Son Of Woody Guthrie) 
"REALLY ENJOYED YOUR SET"
MARK HUMMEL
"I LOVED YOUR SHOW. NEVER HEARD ANYONE OTHER THAN R.L. PLAY WISH I WAS IN HEAVEN SITTING DOWN."
CEDRIC BURNSIDE (Grandson of R.L. Burnside)
"THANKS FOR KEEPING THE BLUES ALIVE RIYEN,WE LOOK FORWARD TO HAVING YOU ON OUR ANNUAL BLUES JAM IN MAY...YOU ARE A BLUES AMBASSADOR."
STEVEN JOHNSON (Grandson of Robert Johnson)
"MR. RIYEN. I WAS CHECKING OUT THE SOUNDS MAN! GREAT STUFF BRO.I LOOK FORWARD TO PLAYING WITH YOU THIS SPRING, YOU ARE A TRUE FRIEND.KEEP IT BLUES BABY!" MUD MORGANFIELD - SON OF MUDDY WATERS
"REALLY DIG YOUR MUSIC. NEVER SAW ANYONE PLAY ACOUSTIC THAT WAY."
JOE MOSS of JOE MOSS BAND FROM CHICAGO
"RiYeN RoOtS IS THE FUNKIEST CAT TO EVER OPEN A SHOW FOR US..KEEP YOUR EYE ON THIS GUY". - JOHN LEE HOOKER JR.
"DON'T FORGET TO BOOGIE RIYEN..."
LITTLE DAVE - CANNED HEAT
"I REALLY LIKE YOUR MUSIC RIYEN,VERY COOL RHYTHEMS"
REMY KABAKA (PERCUSSIONIST FOR THE ROLLING STONES)
"LOOKING FORWARD TO SEEING YOU PLAY AGAIN AROUND TOWN..."
ARTIMUS PYLE of LYNYRD SKYNYRD 
"REALLY ENJOY PLAYING WITH YOU THESE PAST MONTHS..LOOKING FORWARD TO NEXT TIME."
MAC ARNOLD (Opened for Mac many times in the Carolinas)
"I LIKE IT."
~ JEFF BECK - GUITAR LEGEND
Q: Tell us about your music
"My music is for my people. I say it and play it how I feel it. I won't play it at all if I'm not feeling it. Take it or leave it, that's just how I do my thing. These blues are my life. It's not game of fame and fortune. This is about the struggle of a man's very soul put to music. So it is very serious" ~ Roots
Q: What is Blues Power To You?
"Blues Power is a state of mind that one can develop during hard times in life that allows that person to build up so much tolerance towards the effects of going through hard times that they actually seem happy because nothing can break what is already broken..Take that and a sweet 12 bar in any key and you've got Blues Power baby!"
~ Roots
www.riyenroots.com
www.twitter.com/riyenroots
www.facebook.com/riyenrootsmusic
www.youtube.com/riyenrootsmusic
Instagram/riyenroots
www.linkedin.com/riyenroots
Riyen Roots and Kenny Dore Links
www.rootsanddore.com
www.facebook.com/rootsanddore
www.faceboook.com/kennydoreblues
www.facebook.com/rootsanddoreband
www.twitter.com/rootsanddore